There is no singular Latino experience
What does it mean to be Latino? To be Hispanic? To be Latinx? What does it mean to be American? Identity, or how we understand and express ourselves, is very complex. The Latino community is incredibly diverse and many Latinos and Latinas having layered identities. As activist Jonathan Jayes Green has said "I am not willing to compartmentalize my identities. I am all that I am all the time."
Latino identities are unique and shaped by factors such as geography, heritage, race, gender, and more. Learn more about identity in the stories and video below. You can also watch the Somos video to hear more stories.  
Xiuhtezcatl Martinez: Identity and Activism
Latino identity is rich and varied.  Xiuhtezcatl Martinez explains the complexity of his Indigenous identity and how it intersects with his climate justice activism. 
Xiuhtezcatl Martinez. Somos, 2021. National Museum of the American Latino
Stories from the Past
For centuries Latinos and Latinas have been expressing and preserving unique identities. Explore these two stories of identity from the 1800s.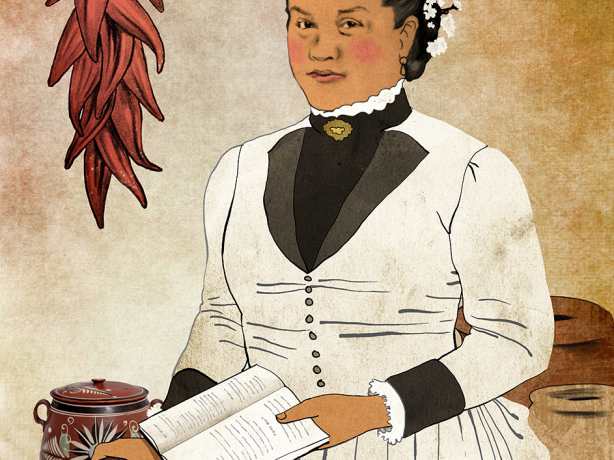 Encarnaciόn Pinedo
Cooking and preserving old recipes can be a powerful way to express identity and preserve cultural heritage. Encarnación Pinedo (1848–1902) grew up during the mid-1800s in California's Santa Clara Valley. Her family, like many Californios, lost land, wealth, and privilege after the Mexican-American War. Nonetheless, Pinedo dedicated herself to cultivating her culinary and writing talents. She published El cocinero español (The Spanish Cook) in San Francisco in 1898. Pinedo's Mexican, Spanish, and Basque recipe collection preserved Californio culture by way of food. 
Digital Artwork by Rafael López, 2021
Pablo Tac
Pablo Tac (1822–1841) was an Indigenous Luiseño who was born in Mission San Luis Rey in present-day southern California. Following Mexican independence in 1821, Franciscan missionary Father Antonio Peyrí selected Tac to relocate to Europe with him. Tac arrived in Rome in 1834 to study for the priesthood. While there, he wrote about the history and lifestyle of Luiseño Indians. Later, Tac created the first Luiseño writing system. Tac's efforts helped to preserve and perpetuate Luiseño culture and identity despite Spanish colonization.
Digital Artwork by Rafael López, 2021
Musical Expressions of Identity: The Puerto Rican Cuatro
Identity and culture can be expressed through language, religion, art, music, foodways, and more. Learn how the Puerto Rican cuatro, a stringed instrument, and música jíbara are expressions of Puerto Rican identity.
Explore other objects in ¡Presente!