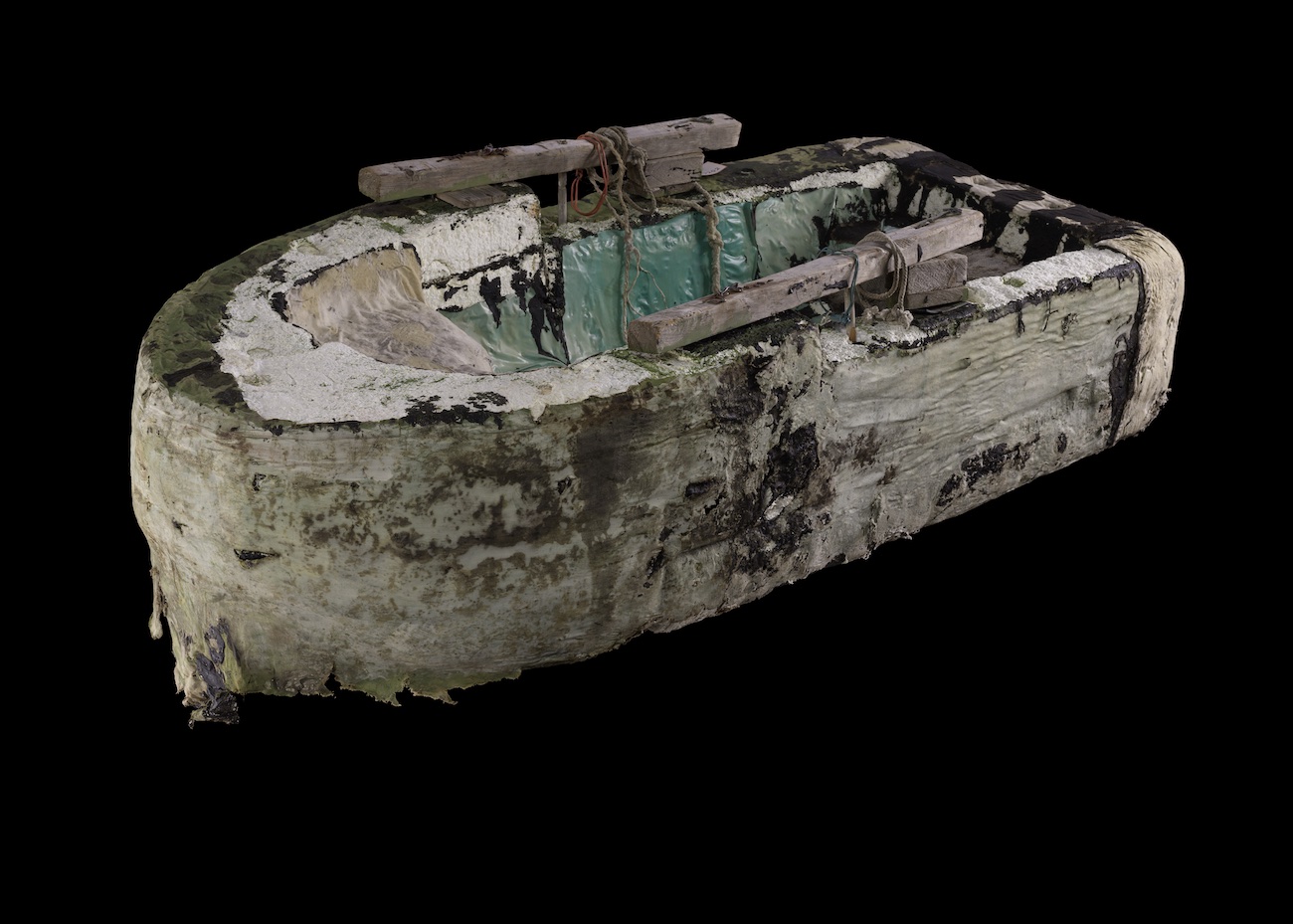 In July 1992, two young men illegally used this handmade raft to flee Cuba for the United States. They set out on their journey two years before the 1994 Cuban Rafter Crisis. During the 1994 Crisis, tens of thousands of Cubans fled the island by boat and raft for Florida. People who immigrate this way are often called balseros, or rafters. Why might people risk their lives by undertaking this dangerous journey? Since the 1959 Cuban Revolution, over a million Cubans have immigrated to the United States. Many escaped political repression and economic hardships, among other challenges, on the island. One balsero explained in 1995, "I had to leave the only way I could—in my boat—it was all I had left. I had no one in the United States. I didn't want to leave."
The men who used this raft made it amid Cuba's restrictive and changing policies on immigration and travel to the United States. Materials like styrofoam and wood make up the raft's body—tar and cloth coat the exterior, likely in hopes of protection from sharks and water flooding. A blue, plastic sheeting—perhaps a shower curtain—covers interior parts. These materials reveal the resourcefulness of balseros.
By way of Humberto Sanchez, who worked with Hermanos al Rescate (Brothers to the Rescue), this raft arrived at the Anacostia Community Museum in 1996. Brothers to the Rescue, a non-profit organization founded in 1991 by Cuban exiles in the United States, rescued balseros by searching for them via plane and leading the U.S. Coast Guard to them. Pilots working with Brothers to the Rescue found the two men who used this raft. The U.S. Coast Guard then rescued them and recovered the vessel. The raft later came into Sanchez's possession, which he donated to the museum. Over 20 years later, Anacostia Community Museum partnered with the Smithsonian Latino Center in the summer of 2019 to stabilize this historical object and "preserve the human story of its use."
Learn more about Latino immigration history by going on a 3D tour of this migratory vehicle.
Raft used by Cuban balseros. Around 1992. 
Courtesy of Anacostia Community Museum, Smithsonian Institution, Gift of Humberto Sanchez