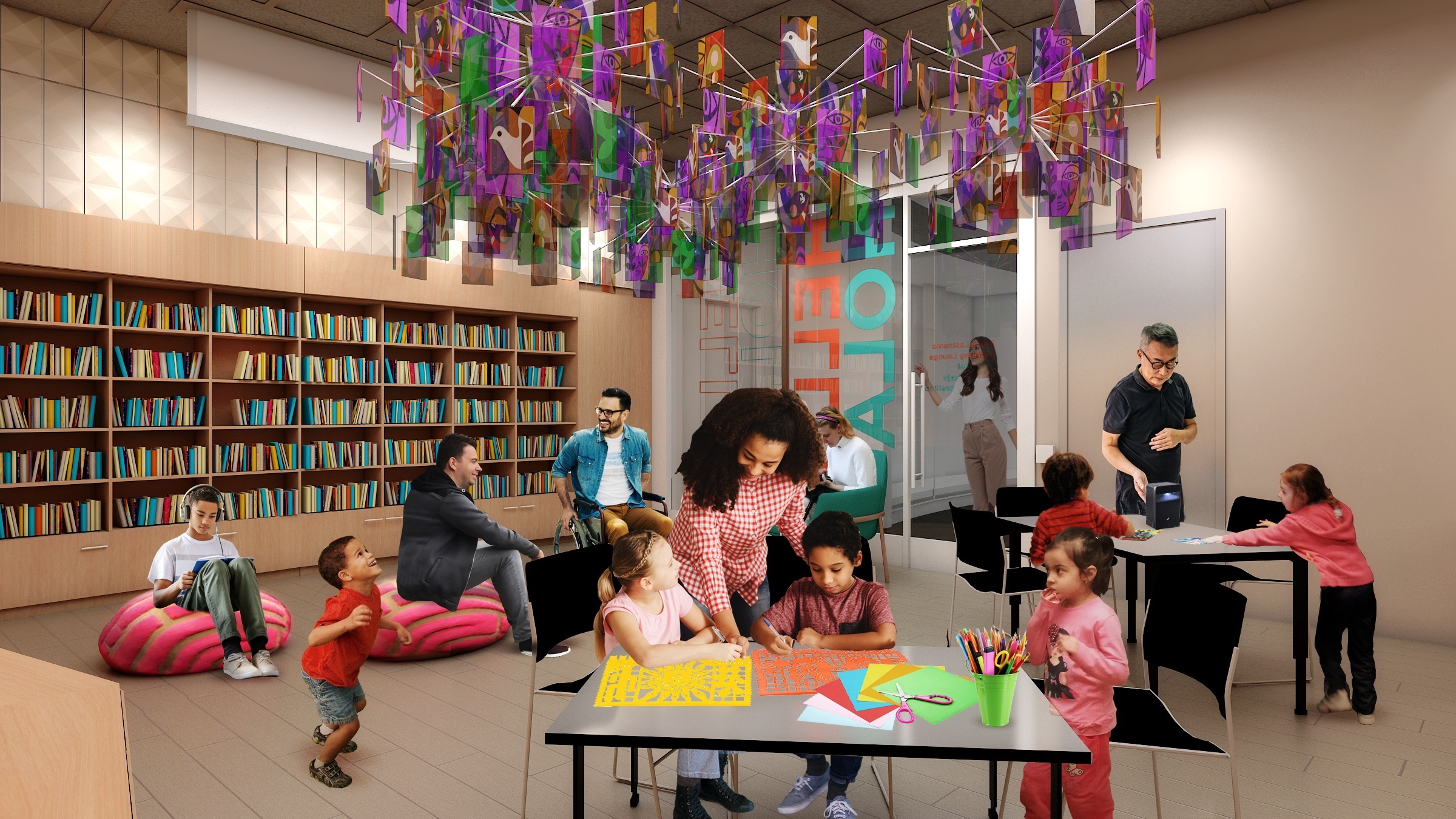 Connecting
The learning program provides interactive and innovative opportunities to enhance lifelong learning and increase access and awareness to the Smithsonian, American Latino Museum, and partner museums' collections and resources in the arts, sciences, and humanities.
The learning program will serve as a catalyst for visitors and the community to unlock and relate the exhibition content presented to their own experience, engaging in active learning through various program types.
Our goal is to create moments that allow on-site and online visitors to experience, learn, reflect, and transform by sparking their collective and individual curiosity.
Creating
Building on 15 years of learning and public experience engagement, active learning is at the core of the Molina Family Latino Gallery's learning program. We will activate the gallery space by developing programs that stimulate the five senses. Education experiences will center on an inquiry-based exploration of exhibition themes found in the ¡Presente! A Latino History of the United States exhibition. Our goal is to spark learners' individual and collective curiosity via hands-on and digital experiences centered on key questions and their manifestation in the Latino experience. Regional outreach also plays a critical role in our education plan. Education will be an entry point for the Latino community to engage with the Molina Family Latino Gallery and the Smithsonian.
Learning and co-creation are at the core of the Latino Center's work. The Learning Lounge positions the Molina Family Latino Gallery as a vanguard in museum education in approach and design. This dedicated learning area within an exhibition space showcases the Latino Center's forward-thinking and visitor-centered approach that integrates learning at all visitor experience stages.
Collaborating
The Learning Lounge is embedded in the Latino Gallery and provides intergenerational visitors a dynamic multipurpose space. With exhibition and digital content within arm's reach, the Learning Lounge can deliver on-site and online learning programs. These can range from a school program to a small artist talk. On most days, the Learning Lounge is a gathering space conducive to storytelling and self-facilitated learning.
Schools, community organizations, clubs, and other groups can participate in facilitated interactions, small conversations, and hands-on activities at small tables. Also, community-based programming can come alive through collaborations with the Latino Center in this space. The Learning Lounge will also host Latino Center programs like the Young Ambassadors Program and Latino Museum Studies Program.
Community
The learning program seeks to ensure representation expands beyond gallery objects and interpretation and is reflected in our partnerships and practice. We are creating meaningful community partnerships and pioneering models for community engagement for the entire Smithsonian by developing new approaches. With these approaches, we will establish a community pipeline of future visitors and future volunteers and docents.
The Learning Lounge and its active learning program will encourage visitors to build on their lived experiences and cultivate their agency as changemakers. Together, we will connect the historical and contemporary stories of Latino contributions to the arts, sciences, humanities, and culture. In addition, we will foster opportunities for intergenerational dialogue and discussion of family histories and their cultural legacies and traditions.
Learning experiences will be available for audiences unable to visit Washington, D.C., via our national program efforts through the Smithsonian Learning Lab, childhood and intergenerational literacy program, virtual programming, and regional on-site programs. Through this, we can extend the reach of the Molina Family Latino Gallery and its learning program, bringing Smithsonian content and resources to our communities directly.